Pioneering Emotional Intelligence Mastery
Welcome to EQ Universe, Your Gateway to Elevate Emotional Intelligence and Leadership Skills
Our Vision: Leading the EI Revolution
EQ Universe, where emotions are not just felt; they are understood, harnessed, and transformed. At EQ Universe, we believe that Emotional Intelligence (EI) is the cornerstone of personal and professional success. Our mission is to empower individuals and organizations across the nation with the transformative power of EI. We aspire to be the unequivocal first choice for Emotional Intelligence training, and our journey is guided by one man's unparalleled mastery: Ganesh Kumar.
Meet Ganesh Kumar: The EI Alchemist
Ganesh Kumar has dedicated his career to facilitating emotional intelligence and leadership hacking for countless professionals. With over a decade of experience, he has become a trusted name in the field of EI training.
His journey began with a deep-rooted passion for understanding the human psyche, honing his skills through the corridors of academia and real-world experience. He began with a purpose to empower individuals with the knowledge and skills to navigate the complex world of emotions effectively. He is a certified NLP Master Practitioner, Life Coach, and Emotional Intelligence Coach.
A Best-Selling Author and Influencer
Ganesh isn't just a trainer; he's an author who pens transformation. His book, "The Power of Emotions," isn't just a best-seller; it's a life-changer. With more than 5000 copies sold, it's a testament to his ability to touch hearts and transform lives. His expertise extends to Emotional Intelligence for Leaders, Managers, Sales & Customer-Facing Executives, and Team Building through EI, Performance and Productivity Enhancement using EI, Faculty Training, and NLP.
Building Bridges Across Industries
EQ Universe has successfully collaborated with leading companies and institutions across various sectors, including IT & ITES, BFSI, Manufacturing, Energy, Logistics, Automobiles, Retail, Healthcare, and esteemed colleges and forums. We've trained professionals from Tata Consultancy Services to Hyundai Motors India, from Cura Healthcare to Amity Global Business School, and many more.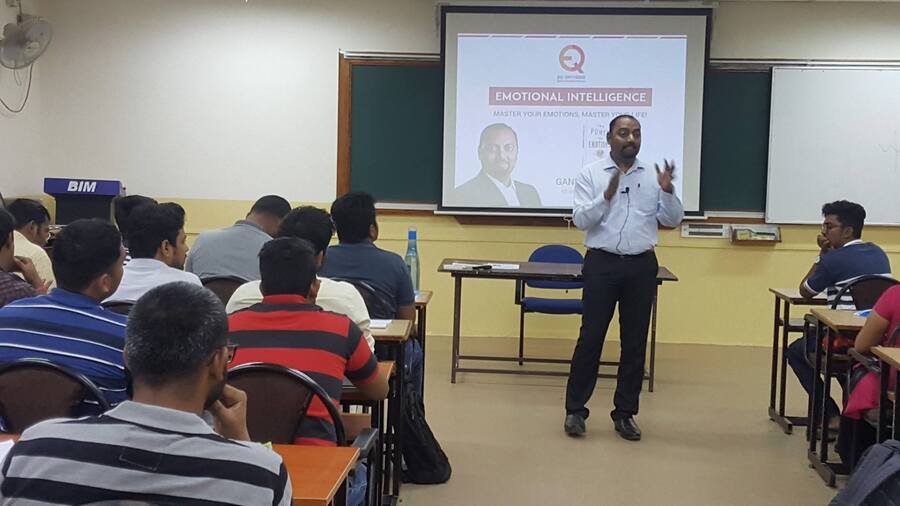 Inception of EQ Universe Learning Solutions Pvt Ltd
A Journey Begins.
Pioneering Emotional Mastery
Hosted the First Public Workshop in EQ.
A Milestone Achieved
The launch of "The Power of Emotions" Book
Revolutionizing Emotional Understanding
Introduction of the Emotional Re-Engineering Model.
Navigating Tough Times
Empowering Over 3000 Lives through Online Engagement During the Covid Pandemic.
Unveiled the Self Love
Unveiled the Self Love Journal, a Journey to Self-Discovery.
Celebrating Excellence
Our Master Trainer is honoured with "Pride of India" Award for Contributions to Emotional Intelligence.
A Flourishing Legacy
Conducted 350+ Enlightening Workshops in Diverse Locations.
Transformation at Scale
Impacted Over 18,000 Lives. Trusted by 50+ Esteemed Clients. 5000+ Power of Emotions Copies Sold. Our Mission Spans 25 Cities, Enriching Hearts and Minds.
Are you ready to embark on a journey of self-discovery, heightened self-awareness, and unparalleled leadership skills? Join us at EQ Universe, where we don't just teach Emotional Intelligence; we embody it. Together, let's create a world where Emotional Intelligence isn't just a skill; it's a way of life.
Your path to EI mastery begins here.