Ready to transform into an inspirational leader?
Want to foster stronger bonds among your team?
Seeking to cultivate the right workplace culture?
By investing in the Emotional Re-Engineering Workshops, your organization can;
Cultivate a positive work culture with stronger employee relationships.
Boost employee productivity and engagement through enhanced Emotional Intelligence.
Equip employees with stress management techniques to handle critical situations/tasks effectively.
Create a supportive and harmonious workplace environment.
Designed to provide practical benefits for both employees and the organization
Emotional Re-Engineering One Day Workshop
EI Training for Positive Work Environment
In today's fast-paced and dynamic corporate landscape, nurturing a positive work environment is paramount to the success and well-being of any organization. This program offers a transformative experience for Entry Level Employees. This workshop equips participants with practical tools and insights to enhance Emotional Intelligence, foster positive workplace relationships, and create a harmonious, engaged, and productive work culture.
Why Choose this Workshop for Your Organization?
Emotional Intelligence Two-Day Intensive Training
Enhancing Employee Productivity & Interpersonal Relationship
Unlock the full potential of your employees and elevate your organization's productivity with our EI Two Day Workshop. This comprehensive program is designed to equip people managers and leaders with the tools and strategies to enhance emotional intelligence among teams. By fostering Emotional Intelligence, your team will experience improved communication, enhanced self-awareness, stronger relationships, team bonding and increased resilience, leading to a connected, more productive and engaged workforce.
Why Choose This Workshop for Increasing Employee Productivity?
Emotional Intelligence Four Day Holistic Workshop
Elevate Leadership and Organisations' Emotional Wellness
Invest in the growth of your organization by enrolling your leaders in our transformative Emotional Intelligence Four Days Workshop. This comprehensive program is designed to enhance leadership skills and promote organizational Emotional Intelligence (EI) wellness. Through advanced Emotional Intelligence techniques, leaders will foster a positive work culture, strengthen relationships, and drive productivity. This workshop has a proven track record of delivering the highest return on investment (ROI), making it a game-changer for your organization.
The program blends in coaching and training together. The program happens at planned intervals for participants to apply the concepts they have learnt in their professional and personal lives. Based on application there are coaching & review session within the program to intensify the learning and internalise the learning. The transformations can be visibly seen during the course of the workshop itself.
Why Choose This Workshop for Leadership Training and Organizational EI Wellness?
Two day Mindfulness Workshop
Reduce anxiety and regulate emotions
This specialized program is designed to equip participants with the essential skills of mindfulness and emotional intelligence. This workshop helps the participants to foster a heightened level of self-awareness and become empowered individuals. Suuports them to  find balance, become centred, connected and rooted to the moment thereby live stress free and productive.  By integrating mindfulness practices and EI techniques, participants will unlock their full potential and lead their organizations to unprecedented success.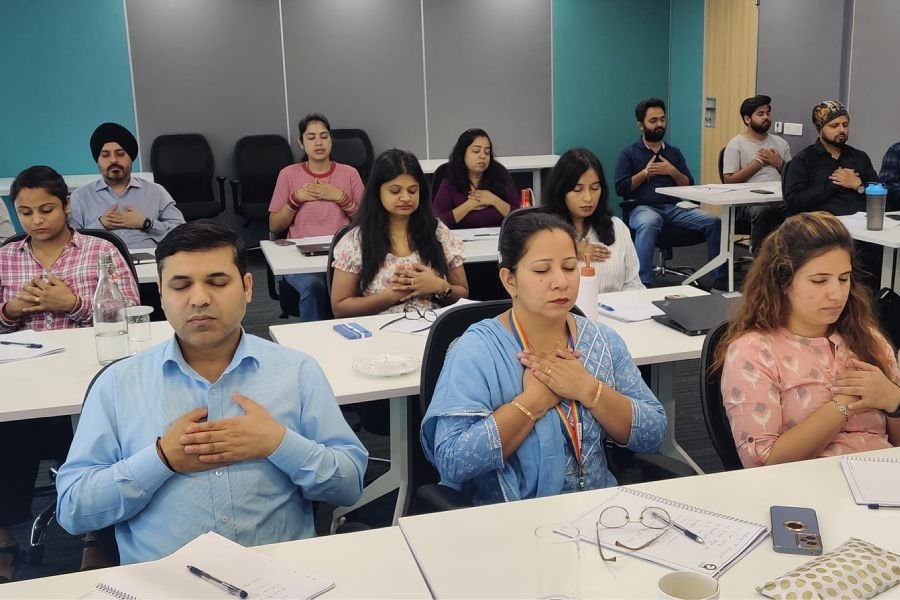 Why should you invest in Mindfulness Workshop?
Registering for the Emotional Re-Engineering Workshop is easy. Simply fill out the registration form with your details, and we will give you a call back within 48-hours!
Ganesh Kumar: The Emotional Alchemist and EI Expert
Discover the power of emotions and unlock your true potential with Ganesh Kumar, the Emotional Alchemist and Emotional Intelligence (EI) expert. With over 18,000 lives transformed and a decade of experience in training, Ganesh is on a mission to empower individuals and organizations with the magic of Emotional Intelligence. As a bestselling author, founder of EQ Universe Learning Solutions Pvt Ltd, and a Certified NLP Practitioner and Coach, Ganesh's workshops have touched prestigious companies, forums, and colleges across the country. Join the EI revolution and experience profound personal growth with Ganesh Kumar as your guide.
Where Emotional Intelligence Comes to Life
EQ Universe was started in 2017 with an ambitious mission to empower 1 Million individuals and organizations with the transformative power of emotions.
As the founder of EQ Universe Learning Solutions Pvt Ltd, Ganesh Kumar is a renowned Emotional Intelligence Trainer and Coach, with a remarkable track record of impacting several lives. His expertise and passion for EI have earned him accolades and endorsements from top-tier companies, leading forums, and esteemed colleges.
At EQ Universe, we offer tailor-made workshops and coaching sessions, focusing on Emotional Intelligence for leaders, managers, sales professionals, teams, faculty, and NLP enthusiasts. Our training equips individuals with practical tools to navigate complexities, enhance communication, build resilience, and foster meaningful relationships.
Join us at EQ Universe and embark on a journey of self-discovery, personal growth, and emotional empowerment. Let us unleash the true potential of your emotions and pave the way for a more fulfilling and successful life.
Don't just take our word for it. Hear from participants who have experienced significant positive changes in their lives after attending the Emotional Re-Engineering Workshop.
Mr.Ganesh Kumar, an awesome professional support and a great human being to be associated with. His passion towards EQ and his commitment towards his trainees is a reflection of his mission that he holds with great reverence. Mr Ganesh offers the distilled essence of emotional intelligence and his techniques for transformation are simple to implement . Doing his program in our organisation has started to trigger a paradigm shift in team behaviour for good.
T.S.I.Sakthi Siva Kumar
Head - Training & People Development Linux Laboratories Pvt. Ltd.
The level of engagement created by him keeps everyone on the edge of their seats. It is a self discovery journey. He makes "being vulnerable" so easy, bringing the participants to such an ease that they are ready to share and discuss their inner most feelings or events from the past. Beauty is that no one is judgemental of anyone in the session. Even post the session the participants build a great camaraderie with each other and never take a sensitive topic anyone raised inside the class.
Mukesh Garg
Director of IT at Ramboll
The one whole day training program was very engaging and never once we encountered boredom or distraction. The following virtual trainings are equally engaging. His method of teaching is easy to follow and we were able to practice the teachings in our real lives. I recommend Ganesh Kumar to all the corporates who want harmony and collaboration among teams and empathy in leaders.
Kavitha Rose
Senior Manager - HR EC Group International
I have been a distant admirer of Ganesh and recently had the pleasure of co-facilitating the EQ program with him in Nagpur for Alstom. I took a back seat , and he made the program, so exciting, and it was a great learning exercise. He is genuinely committed to enhance the emotional quotient of participants for both business and family success. Will be soon partnering with him for more initiatives
S Deenadayalan
CHAIRMAN, CEO SKILL ACADEMY, INDIA, CEO-Vietnam
Ganesh is a wonderful, warm, sincere, collaborative, energetic and pleasant human being. I have had the privilege of knowing him for the last 5 years and I have seen him growing from strength to strength filled with humility and zeal. He brings along uniqueness in delivering facilitative programs on Emotional Intelligence and he is gifted with exceptional ability to establish connect with the participants. The intensity of the content he delivers, blended with humour is captivating and immersive. My best wishes to him in all his endeavours and may he continue to make a difference to peoples' lives.
Balakrishnan Bhaskaran
Senior Manager L&D – Sanmina Corporation
I attended Ganesh's session on Emotional Intelligence and I must say, Ganesh is one of those rare trainers who gets the energy high in the room and connects with everyone within few minutes of his session. He has in depth knowledge about his subject. His session are a wonderful balance of concepts and application both during and beyond the session. Wish him the best in his continuous efforts to impact people lives.
Pallavi Jain
Corporate HRBP at DCM Shriram Ltd
Ganesh Kumar is a great trainer. With Ramco Systems he has been associated for almost 4 years and each session delivered was fantastic and for sure every single participant had great learning and he ensures to get the attention of the participant into the program in few mins. If you are planning to run an EI program for your employees I would strongly recommend him in doing sessions for you. Wishing you more success in the days to come.
Priya T S
Talent Transformation Catalyst Ramco Systems Ltd
Ganesh is a great faculty. We had him partner with us at our flagship leadership program and it was a pleasure! He not only knows his content well but lives his content well too! Kudos! All the best!
Nidhi Raina
Global Head People & Culture Transformations at Tata Consultancy Services
Ganesh has the ability to touch the life of every person he meets in a very special way. His profound belief that "he is not the knowledge provider "but "knowledge just flows through him from the universe" does the magic in his programs. His programs are uniquely structured and powerful. Ganesh genuinely gives his 100% in every session and ensures that the participants are coached to a level of self-reliance. Am glad that I had an opportunity to participate in his program and benefit immensely. I am sure Ganesh will reach greater heights in the near future.
Gayathri Shankar
Head HR Operations Ramboll ME & APAC Senior Manager
I have received nothing but rave reviews from the staff who attended your workshop! I can't thank you enough for launching our EQ initiative and getting our managers excited about the next steps. I have had the pleasure of working with Ganesh as well as attending an EQ course he facilitated. Ganesh's well-honed facilitation skills and level of professionalism are exemplary. His leadership skills and dedication to promoting the understanding of emotional intelligence and his extensive knowledge set him apart in this field. I highly recommend Ganesh's work and ability to inspire.
Dinesh Prabhakar
Senior Manager HR – Cura Health Care Pvt Ltd
I found something very unique with Ganesh. He lives truly by what he teaches. I know it is only normal, however it is not very common. Start with the energy he displays all the time. The kind of work he does in preparation and practice certainly shows in the way he delivers his programmes. One more important trait, he spares no efforts in updating himself. He learns from the world's best, internalises, practices and then shares it with his participants. When a person enjoys what he does, it shows and that is so useful to everyone around. I am one of the beneficiaries of his training programme and I wish that his journey touches the lives of thousands of people positively
Rajkumar S
Learning and Development at Sundaram Learning Ltd
Ganesh is a highly energetic trainer. He uses his Emotional Intelligence framework and his expertise to take his participants deep into the subject and bring about a transformation within each individual. I thoroughly enjoyed his sessions and his methods helped me dig deep within myself. I strongly recommend his sessions for anyone who would like to know, practice, or teach Emotional Intelligence.
Akash JP
Thermo Fisher Scientific, Training Specialist
Ganesh is a very passionate and enthusiastic trainer in the field of Emotional Intelligence Happened to attend his Emotional Re-engineering modules Level 1 & Level 2 in the recent times and realized its positive impact. Amazed by his immense conceptual clarity, ability to drive complex topics in simple language, effortlessly handle intense session and retaining the momentum through out the session Wish him good luck on his endeavour to touch one million lives and enhance their lives to make this world a better place to live
Kamala Manohari
Senior HR Business Partner - L&T Technology Services
Ganesh is an excellent and dedicated EI trainer, who changed the perceptions towards life of many individuals. His sessions are very interactive and more practical, so it is very easy to apply EI in our day to day life, in both personal and professional. He is well able to adapt himself to the level of audience he is coaching. The EQ level in my team is amazing and has changed positively. I wish he adds value to the lives of many more.
Balaji Swaminathan
Ramboll India - Director - Energy EC
Join our growing community of leaders….
Empowering Minds, Nurturing Hearts: Your Regular Dose of Emotional Intelligence Wisdom & Brainstorming Sessions